For the 9th Beer Review in 5 days let's talk about Schlafly Pumpkin Ale. Based on my twitter feed this beer has to be one of the most sought after Pumpkin Ale's in the country. EVERYONE seemed to hunting it down anywhere they could. Luckily, I was finally able to find some of my own about 2 weeks ago. Now I understand the hype. This stuff is good.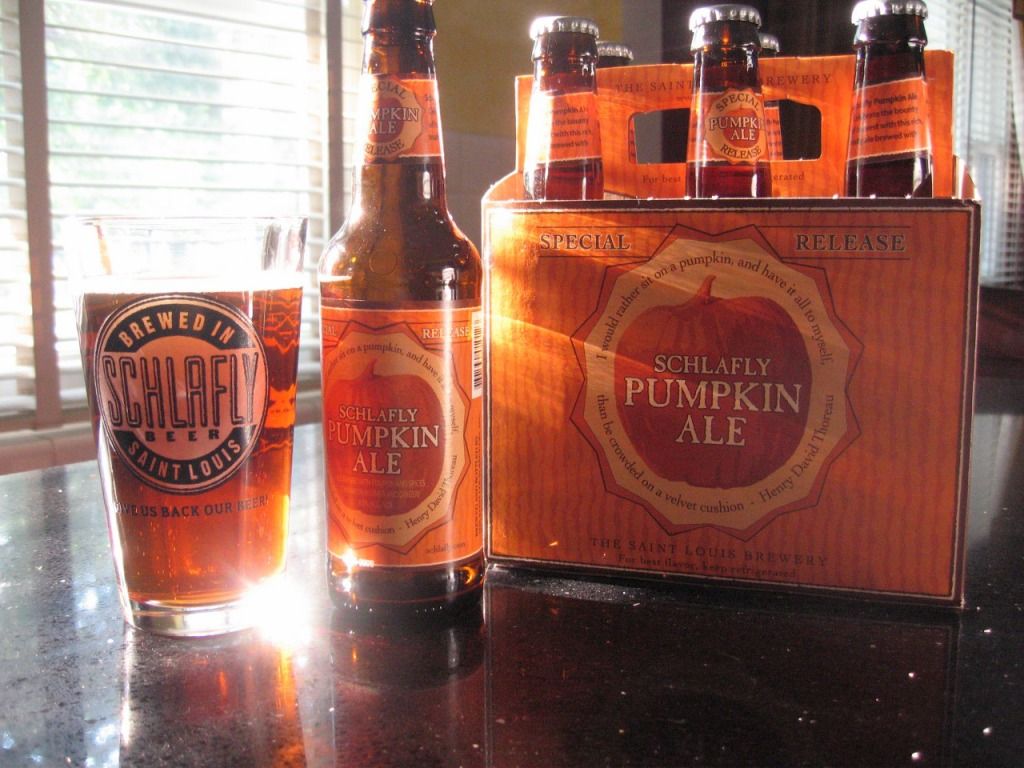 Schalfly Pumpkin Ale, as evidenced in the picture, pours a gorgeous golden orange/faint light brown that evokes the colors of fall and pumpkins. The nose on this one is excellent. You get an aroma that might be as close to Pumpkin Pie as you can possibly get in a beer. You have all the smells of a traditional pumpkin pie, but there is also a hint of brown sugar and vanilla that you'd have to be crazy not to love.
Can the taste of Schlafly Pumpkin Ale live up to the spot on appearance and aroma of this beer? You bet it can! All I could think of the entire time I was drinking this beer was "Wow, a pumpkin beer that tastes like pumpkin!" What a novel idea. The fruity pumpkin flavor comes through strong and is spiced perfectly. It's never too sweet or too spicy. It's always just right....just like the third bowl of porridge.
If I were ranking the top Pumpkin Ale's I've ever had, this has to be in the Top 3 along with
DFH Punkin' Ale
and
Heavy Seas The Great Pumpkin
. With that kind of endorsement is it even necessary for me to make a recommendation? Go hunt this one down before it's gone till next year.
Style:
Pumpkin Ale
ABV:
8.0
IBU:
16