I promised you five straight days of double beer reviews and I'm going to keep my word. Welcome to day number two. Let's get right into it.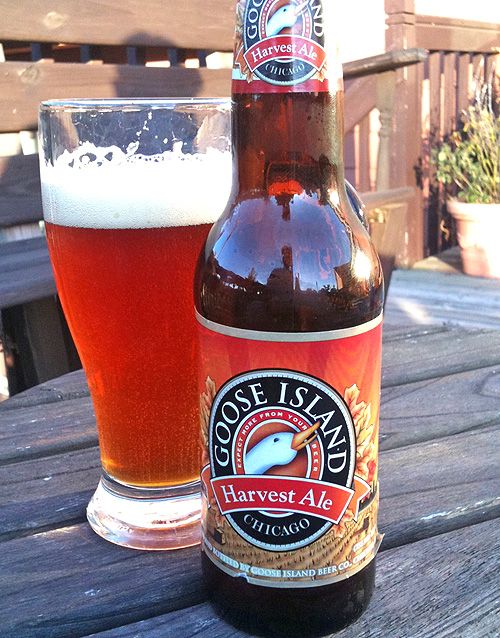 Harvest Ale
is Goose Island's fall seasonal. Now, before I get into the review of this beer I want to make sure that I mention that Goose Island is one of my favorite breweries of the past year. Their Honker's Ale and Mild Winter are two of the best beers I've had in recent times. The Harvest Ale, though, is not one of my favorite fall beers.
If someone poured this beer into a pint glass and handed it to me without me knowing what it was I would love it. This beer is flat solid. In fact, it tastes A LOT like Honker's Ale. And while I already mentioned that I love Honker's Ale the fact that Harvest tastes so similar is my biggest problem. I just don't get anything that says "fall beer" to me here. The predominant feature of this beer, both in aroma and flavor, is the Cascade Hops. It's such a strong flavor that almost everything going on with this beer (such as the variety of malts being used) gets overshadowed.
If I'm judging this beer on it's own I would have no choice but to give it high marks. But if I'm placing Harvest Ale within the realm of fall seasonals it falls a bit flat for me. So, do I recommend this one? I don't know. If you're looking for a tasty beer, absolutely, give this one a try. But if it's a top notch fall beer you're after I think I'd look elsewhere.
Style:
American Extra Special Bitter
ABV:
5.7
IBU:
35