Ready for another Recipe That Doesn't Suck? Good, because I've got one for you. One thing you'll probably notice as I post more and more recipes is that I like doing most of my cooking in a pot. Cut stuff up, throw it in a pot, come back and stare at it every once in awhile....that's my kind of cooking. I also like cooking with beer as an ingredient and this recipe combines those two things.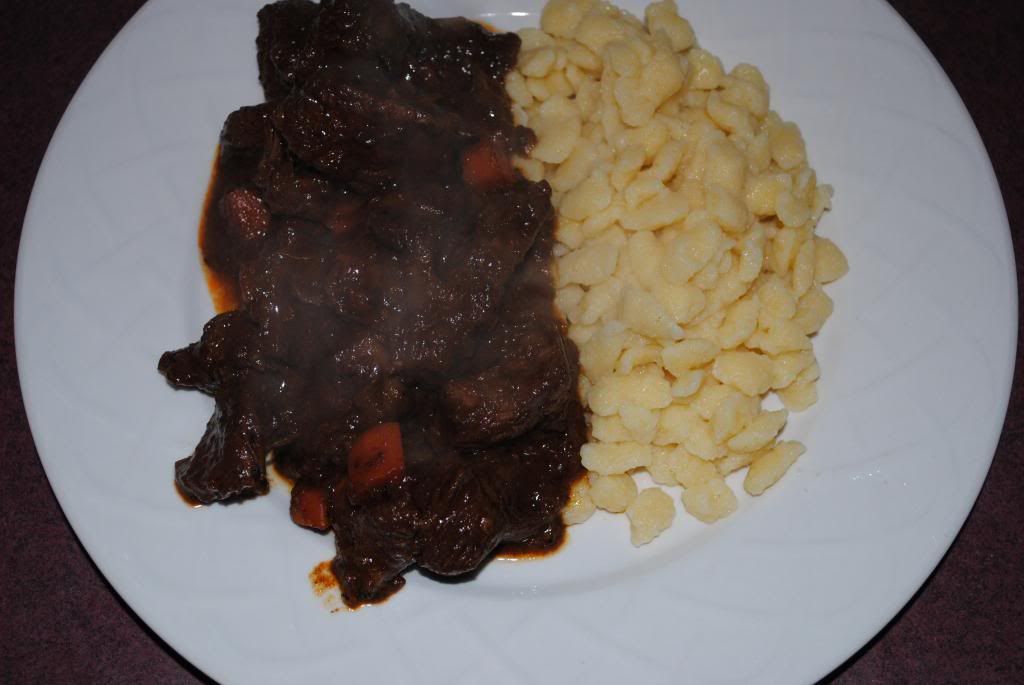 The recipe I'm sharing with you today was derived from a
Wolfgang Puck recipe
. In the past, he has cooked for the Grammy's. Obviously, he doesn't really know what he is doing so I decided to change it up a little bit and add some of my own flare to the mix.
Dish:
Goulash
Serves:
4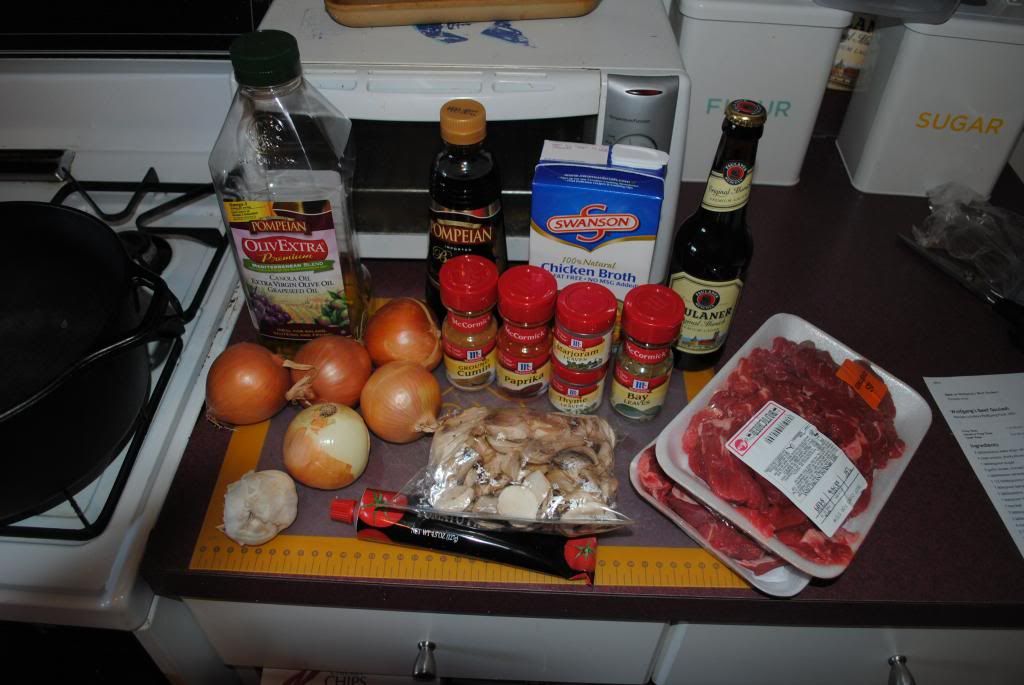 Ingredients:
2 Tablespoons Olive Oil
4 or 5 medium sized onions (4 cups)
1 TBS Sugar
Garlic (few cloves)
1 TBS Cumin
2 TBS Paprika
1 TBS Marjoram (dry)
1 teaspoon of Thyme (dry)
1 Bay leaf
3 TBS Tomato Paste
2 TBS Balsamic Vinegar
2 Cups Chicken Stock
1 Beer (Lager/Pilsner)
2.5 lbs Stew Meat (big bite size)
1 Carrot
1 cup Mushrooms
Salt
Pepper
The changes I made to the recipe were pretty basic. The first thing I did was reduce the amount of chicken stock that was being called for by half and replaced it with a bottle of beer. This is more of a German/Austrian style Goulash and in that spirit I decided to go with a German beer. This time I chose Paulaner Original Munchner. It's a basic clean lager and I highly recommend that you stick to something in the Lager/Pilsner alley (doesn't have to be German). With that said, adding a Guinness in there, while it might be straying from the German theme, probably would taste pretty damn good.
I also threw in some carrots and mushrooms just as a simple way to get some extra flavors and textures in there. That, and it's a really easy way to get a few extra vegetables into the system.
Lastly, the original recipe called for caraway seeds. I don't find myself using them very often so I decided to pass on them and instead used cumin. It's up to you which way you go with that one, but I surely wasn't mad at the cumin.
Instructions:
Add oil and caramelize the onions and sugar. This can take anywhere from 10-20 minutes.
When caramelized, add garlic, cumin, paprika, marjoram, thyme, bay leave. Saute for a minute.
Add tomato paste. Stir it around real quickly and then deglaze with vinegar, chicken stock, and beer.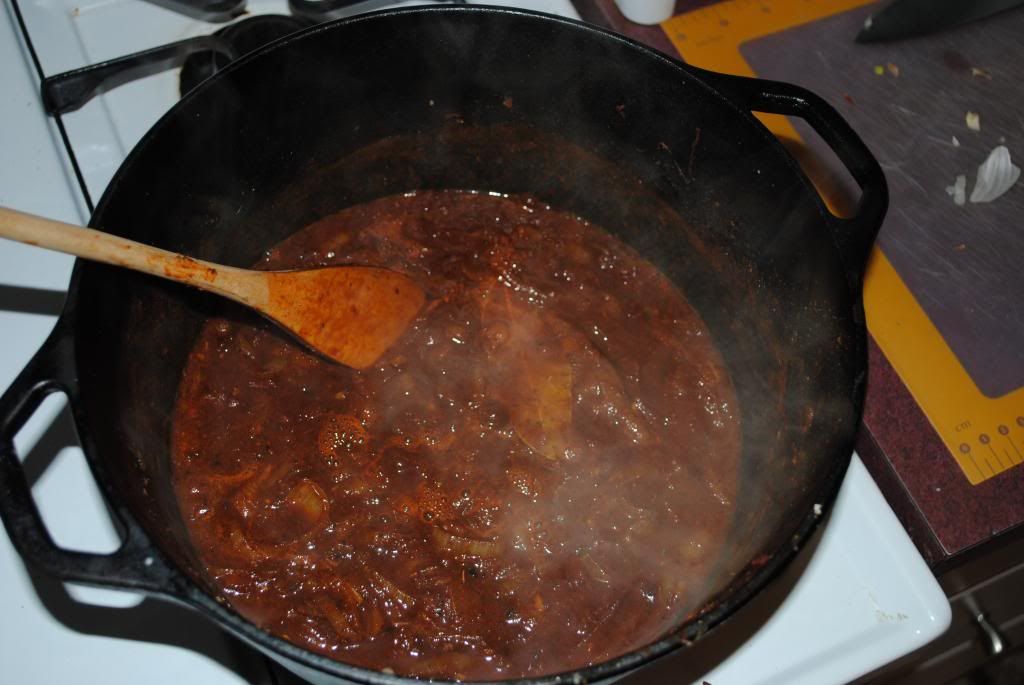 Add the meat, carrots, salt and pepper. Bring to a boil, then simmer with lid off for 90 minutes to 2 hours (Note: If using mushrooms, wait until your last 45 minutes of cooking before adding.)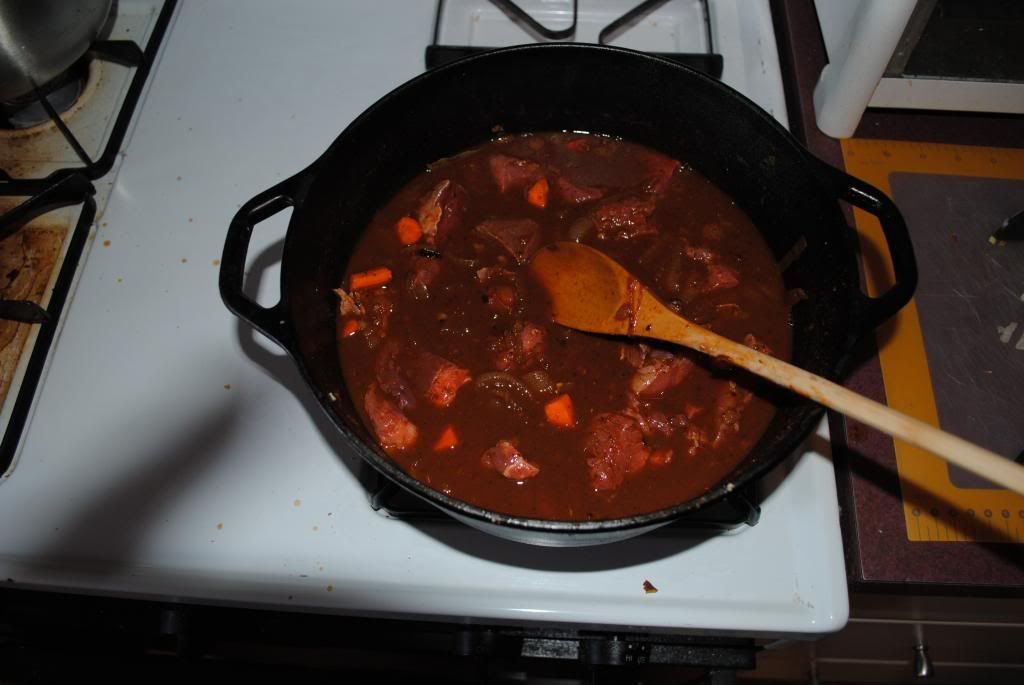 If you are a fan of stew, you're a fan of goulash. It's essentially a stew with a big tomato base. In this case, the vinegar adds a bit of a sour taste for a nice twist. Overall, I loved this recipe and I think you will too. There might only be a few more cold weekends so try it out. I can vouch that it doesn't suck.