I just realized earlier today that I have a serious stockpile of reviews to get through. It was 3 days before Xmas when we visited
Tavern on the Square
and I can remember gingerly walking through the snow the night we visited. I always mean to reel back on the new restaurant visits until I catch up with my reviews, but it's so fun eating my way through Baltimore I inevitably find myself buried neck deep with future reviews. It's visits to places like Tavern on the Square that make it so hard to keep myself from finding more good food.
The night of our visit Deana and I were in share mode. I'm normally a you eat your dinner and I'll eat mine kind of guy, but on this night we ordered a bunch of stuff and split it. We started off the night with Pecan Crusted Chicken Fingers (which isn't showing up on their online menu) and they were delicious. Chicken Fingers are such a simple thing, but way too often people go the easy route and serve the frozen garbage. You can tell the kitchen used fresh chicken and breaded the chicken themselves. The chicken was tender and the addition of pecans gave them that little something extra to make them interesting. For dipping, they were served with a honey mustard that was above the board as well.
The second item we decided to share was the Roast Beef Grinder. I'm a sucker for any type of sandwich like this and I was not let down. The meat was juicy and cooked to a proper medium temperature. The bun was nice and soft. And the provolone cheese and horseradish kept everything nice and moist (not that it needed the help). There isn't much else to say about it, but don't let my lack of eloquence trick you into passing this by. It's a damn good sandwich.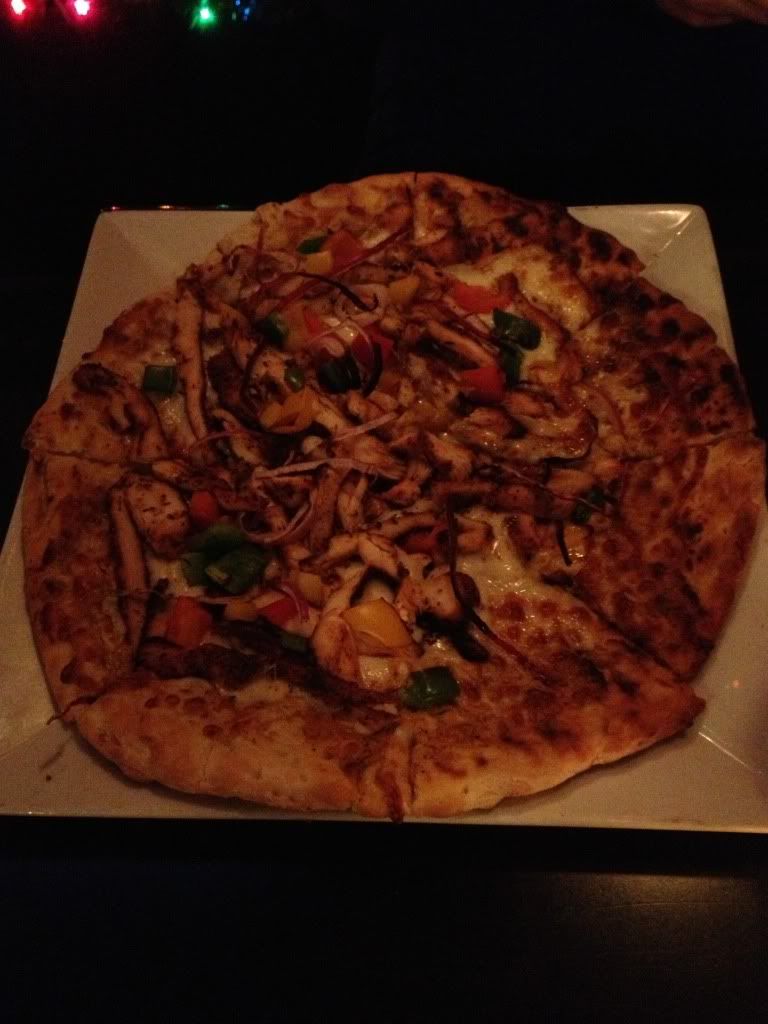 To round out our dinner we added the Blackened Chicken Pizza to our table. Deana and I really enjoyed the pizza. The chicken warmed us up on this snowy night with a spicy Cajun rub that was nicely counterbalanced by sweet caramelized peppers and onion. Most intriguing of all was the white sauce they used in place of traditional red pizza sauce. It was a creamy garlic sauce and it also helped mellow the spice from the chicken. Because I'm only looking at cheese pizza in the
Great Baltimore Pizza Pursuit
this doesn't qualify, but as far as pizza is concerned I was surprised how much I enjoyed this one. In fact, this was the pizza that sparked the idea about a Pizza Pursuit in the first place.
Overall, our meal at Tavern on the Square was a success. The food was good, the prices were nice, and we were able to enjoy it all in a cozy little restaurant that we'll be sure to head back to in the future.
Price
: Very affordable given the quality
Recommendation
: Give them a try
What to Order
: I think you'd be safe ordering anything I talked about above. They did a great job of putting a new spin on something you're already very familiar with.