"Do you want Chinese?"
"Eh, not really."
Sigh. "Okay. But you know I had to try".
And so goes the weekly conversation with Deana in regards to Chinese food. For whatever reason, I rarely find myself excited about eating Chinese. I've lived all around the Beltway and no matter where I find myself I'm rarely pleased when it comes to what Baltimore offers in the way of Chinese food. It always surprises me that I can live so close to a city and the pickings can be so slim. I'll never understand it....especially when I can drive to my hometown in podunk nowhere and find Chinese that is better than 95% of what I've tasted around here. And now that we have all that negativity behind us, let's talk about one of the restaurants I've actually made return trips to. I'm talking about
Orient
in the center of Towson.
Because I haven't fallen in love with Chinese food at this point in my culinary adventures, I'm always willing to try something new in hopes of sparking a match between tastebud and food. On the night of our visit I decided to get a little adventurous and ordered Cold Noodles with shredded cucumbers. Yes, they were literally cold noodles and they were topped with some sort of peanut sauce and cucumbers. I won't be ordering that again and I can't recommend it either. I always joke that I could eat peanut butter off of cardboard, but I can confidently declare bullshit on myself now. It wasn't literally peanut butter, but it just wasn't appealing. It was too sweet and the peanut sauce was much too thick. Oh well, I gave it a shot.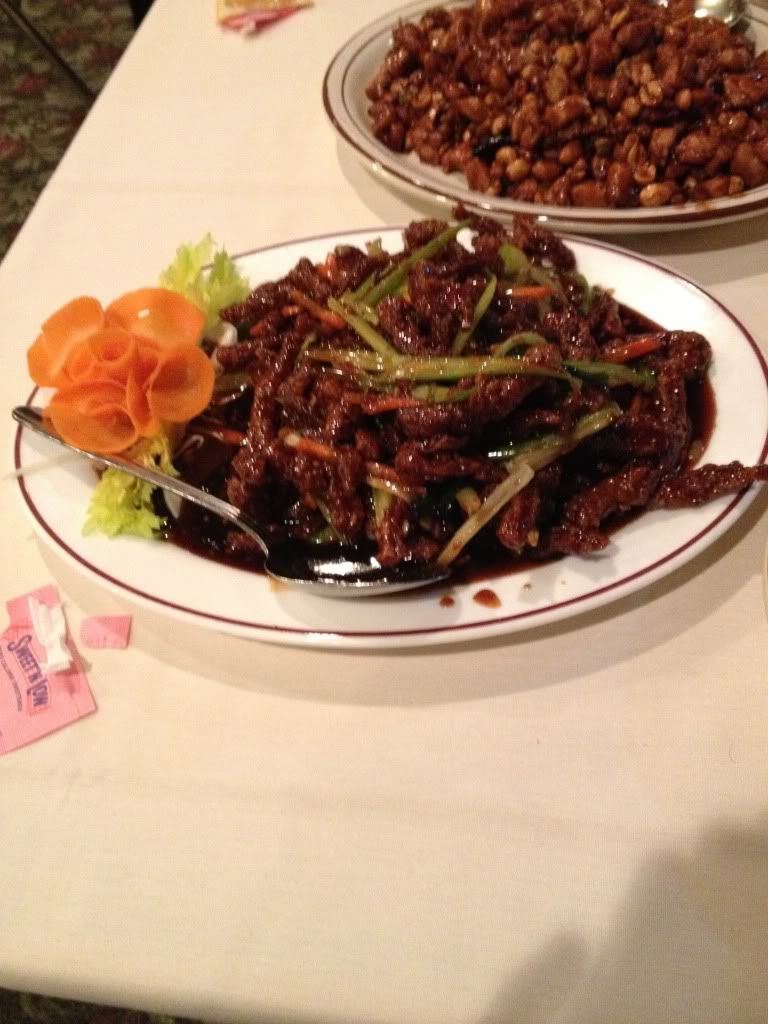 We had much better luck with our main courses. Deana went with Kung Pao and I went the spicy route with Szechuan Crispy Beef. I loved mine. I don't know how they do it, but the way they get the outside of the beef so crispy while keeping the inside tender is one of the world's great mysteries. At least to me, but I'm sure there is a perfectly understandable cooking technique behind it all. The sauce is a spicy sweet concoction that would have Guy Fieri all jammed up about the sweet and the heat. But for me, this meal is all about the texture. The beef and crunch veggies on top of tender rice is where it's at.
Deana's Kung Pao was also a clinic in texture. The chicken was some of the most tender chicken I've come across and it played really well against the peanuts. Personally, I've never been a huge fan of Kung Pao sauce so my opinion doesn't mean much, but Deana gave it high marks. As a Kung Pao connoisseur from way back you can take her endorsement to the bank.
And there you have it...a review of Chinese food from someone who admittedly isn't the biggest fan (at least in regards to that of Baltimore). Feel free to dismiss this or do what I hope you'll do and take into consideration that Orient is one of only two or three Chinese restaurants in the area I'll visit more than once.
Price: Average
Recommendation: Worth a shot
What to Order: Crispy Beef