I decided a few weeks ago that I wanted to start homebrewing a lot more often. I want to do this not so much for the beer, but for the practice. Five gallon batches take quite a bit of time to get rid of so I came up with a semi-solution that goes a little beyond giving away all of my booze. Obviously, in addition to drinking my own stuff, I also like to sample goods from the craft world at large. My commercial stock piles never get
too
big, but it gets big enough that it prevents me from making a quick enough dent into my homebrew stock. So, I decided that the only beer I will purchase for drinking in my house will be beers brewed in Maryland, Pennsylvania, Delaware, and DC. Of course, when at a pub I'll gladly partake in whatever my little heart desires. With all that said,
Brooklyn Brewery Black Chocolate Stout
came from my current stockpile and was something Deana gave to me for Valentines Day.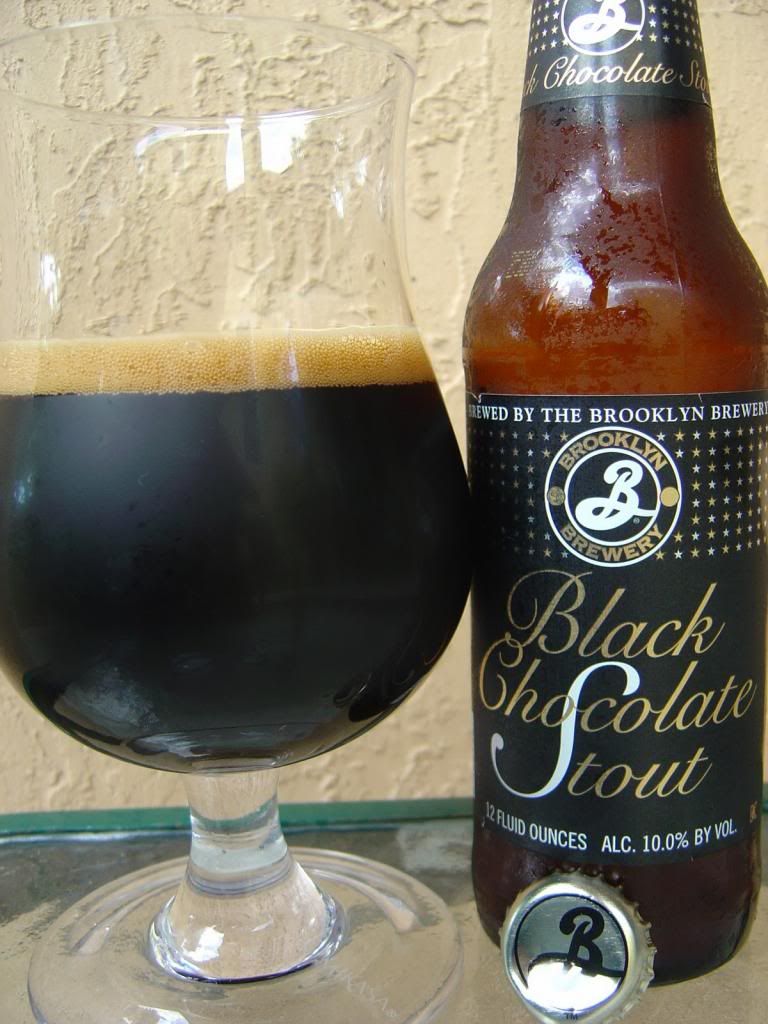 Style
: Imperial Stout
ABV
: 10%
IBU
: 51
Appearance
: Good lord this beer pours thick. I was amazed how thick it looked coming out of the bottle. For a second, I thought someone turned the gravity down in my house. What else could explain a pour that looked like it was happening in slow motion? Once poured, there wasn't much of a head to speak of. There was maybe half of a finger that was khaki colored and thick.
Nose
: The nose on this one wasn't anything you haven't smelled in a stout before. There was the roasted malt, coffee,chocolate, a little black licorice/anise. You're also reminded how this stout earned the title imperial as the booze shines through.
Taste
: The initial taste of Black Chocolate Stout was a bit overwhelming. The mouthfeel was thick. Not surprising after the pour, but you definitely feel it while it's going down as well. I love letting Deana take a sip of my beers to get an idea of what she thinks. Most times, she goes in without any preconceived notions of what a beer should taste like. Her reaction to this stout was that it was "almost like you could chew it". Initially, I felt like the booze could have been hidden a little better and that the booze taste combined with the anise flavor came on very strong. However, after couple more sips it wasn't so shocking to my palate and I was able to manage it a bit better. Oddly enough, with this being called a chocolate stout I didn't see the chocolate playing a starring role. There was a touch of sweetness up front, but the finish was dominated by booze and it completely wiped away all the previous flavors I was experiencing. .
Final Verdict
: Brooklyn Brewery Black Chocolate Stout just seems to be one of those beers that was never meant to be friends with me. I didn't hate it. It just came across as not incredibly balanced and it won't be a beer I'll seek out again in the future.