Last week I was invited to celebrate International Pineapple Day with Bahama Breeze. Normally, I'm not a big fan of celebrating made up holidays, but complimentary pineapple cocktails were being offered and who am I to decline a friendly invitation!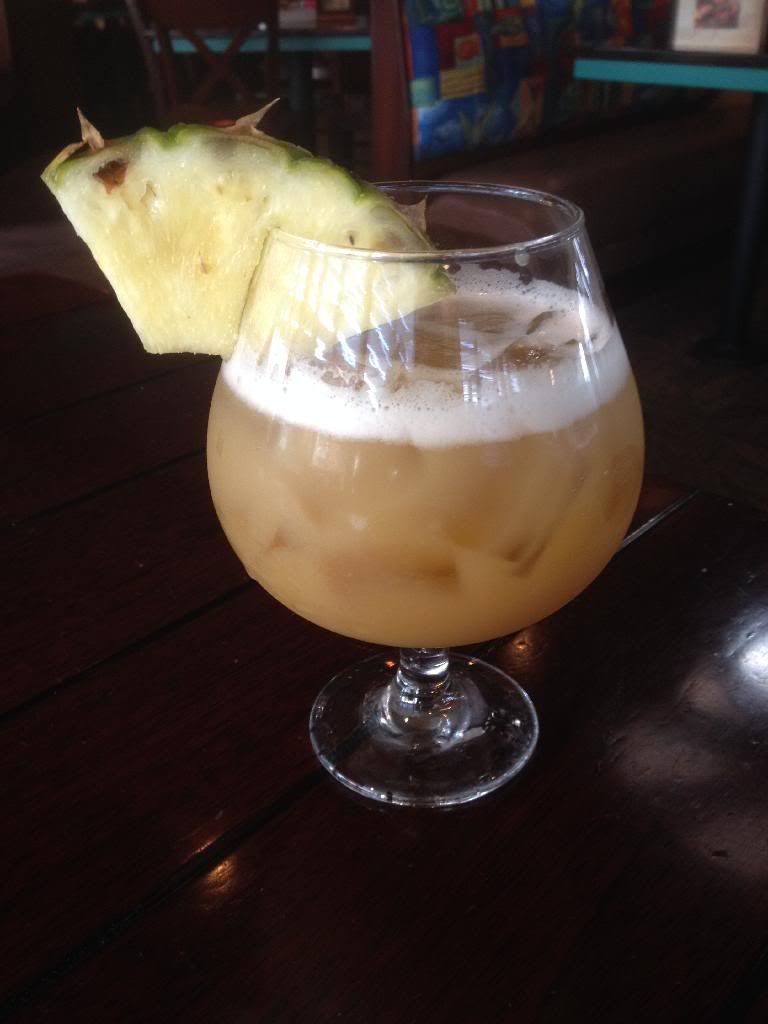 Our brand new to Bahama Breeze server suggested we start off the night with a Goombay Smash. At first, I thought we were going to be taught a new move to smash Goomba's in the latest version of Mario, but in fact the Goombay Smash was a nice mix of pineapple juice, orange juice, and a healthy dose of dark rum. Next year, when you go to celebrate Pineapple Day, this is the drink to do it with. The pineapple juice is the star of the show making the Goombay Smash totally refreshing. Initially, the rum felt a bit heavy, but after mixing my drink around a bit and allowing the ice to melt a tad the drink became dangerously easy to drink. So, be careful out there guys! It's a big drink.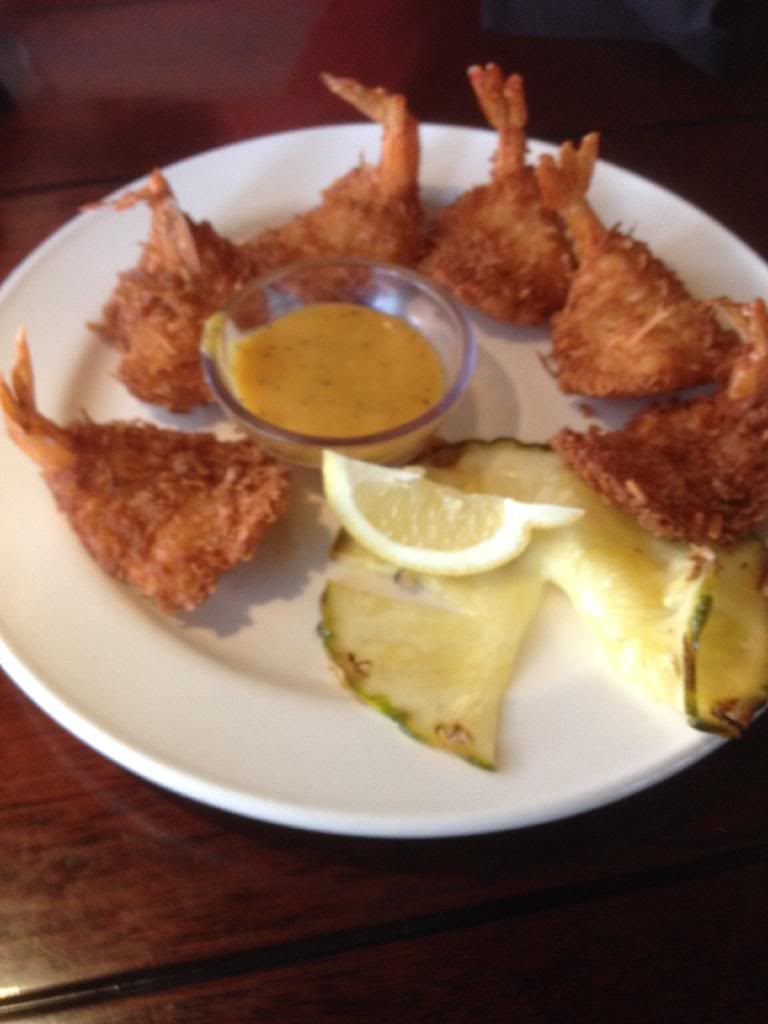 To go along with our drink we were served a variety of appetizers. The first app, and also our favorite, was the coconut shrimp. The shrimp were crunchy and breaded quite nicely. Yes, there was plenty of coconut but not so much that you couldn't taste the shrimp themselves. They were served with a citrus-mustard sauce that was a nice change-up from cocktail sauce or some of the weird sweeter sauces other restaurants have tried to pass off with coconut shrimp.
Another highlight of our appetizer session were the Beef Empanadas. They were filled with a mixture of beef, potatoes, and what looked like carrot or possibly sweet potatoes all stuffed inside delicious deep fried pastry. On their own, the empanadas were perfect savory little pockets of happiness, but the chutney served on the side played the perfect sweet counterpoint to the savory empanadas. Deana, who came along with me to bask in the fruity celebration, was in empanada heaven when these came out.
About the time we were finishing those up the empanadas they brought another pineapple themed drink called Painkiller to the table. Painkiller was a delicious mix of coconut milk, orange and pineapple juice, a little ground nutmeg and rum. It was good but both of us definitely preferred the Goombay Smash simply because we weren't huge fans of the creamy coconut found in the Painkiller.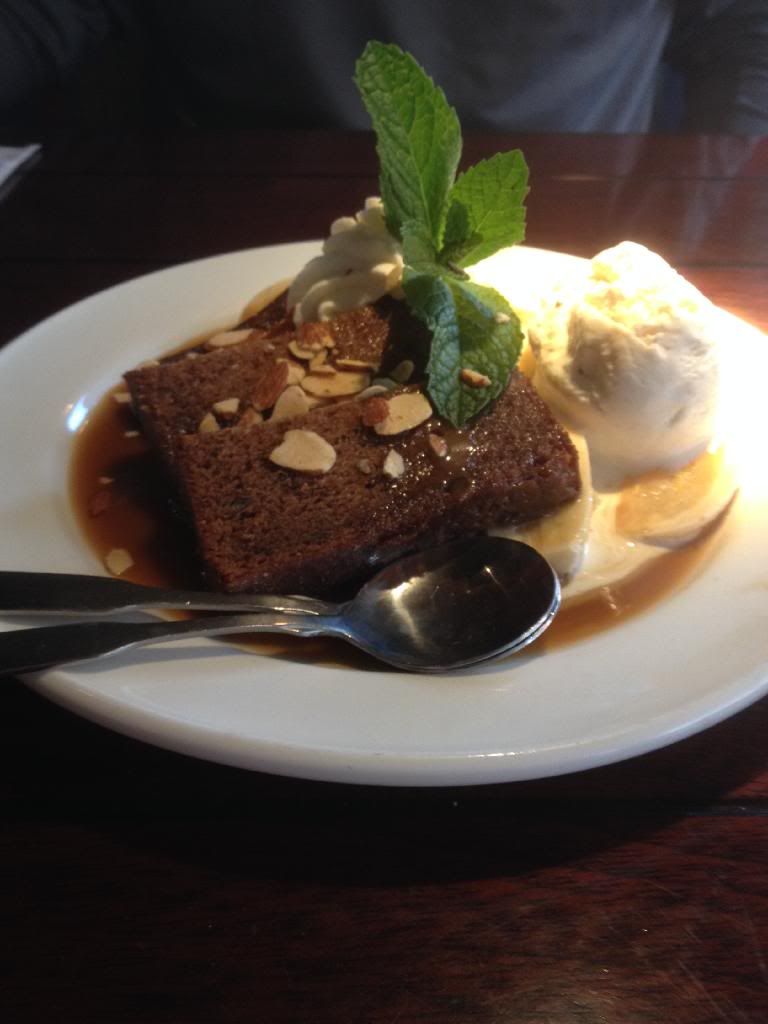 By that point, we could have called it a night and left full and happy, but the words Banana Nut Bread Supreme caught our eyes and we just couldn't leave well enough alone. And thank god gluttony got the best of us because this was a fantastic desert. Hot banana nut bread, fresh banana, vanilla ice cream, butterscotch brandy sauce, and a fat happy Doug. If Deana weren't making me the best birthday cake in the world a few days later, I would have been plenty happy trekking back to Bahama Breeze and enjoying this desert once again.
When all was said and done, I was very happy that I celebrated International Pineapple Day with Bahama Breeze. As a beer drinker it was nice to be reminded how refreshing a cocktail can be with the Goombay Smash and I'll never be mad at the dessert we shared. You might have to wait a year to celebrate the next Pineapple Day, but if you're in Towson and you're in the mood for a good drink and some tasty bites keep Bahama Breeze in mind. It's good stuff.