This review was written by Deana
Douglas and I love to visit places with both good food and a good draft selection. One such place that we had been meaning to visit was Padonia Ale House. This past weekend we finally made it there for dinner. I've heard a lot of good things about Padonia from people I work with and with over 40 beers on tap plus a large bottle selection we could definitely see why. They had a nice mix between local beers and everything else and enough variation in beer styles that anyone should be able to find something they like.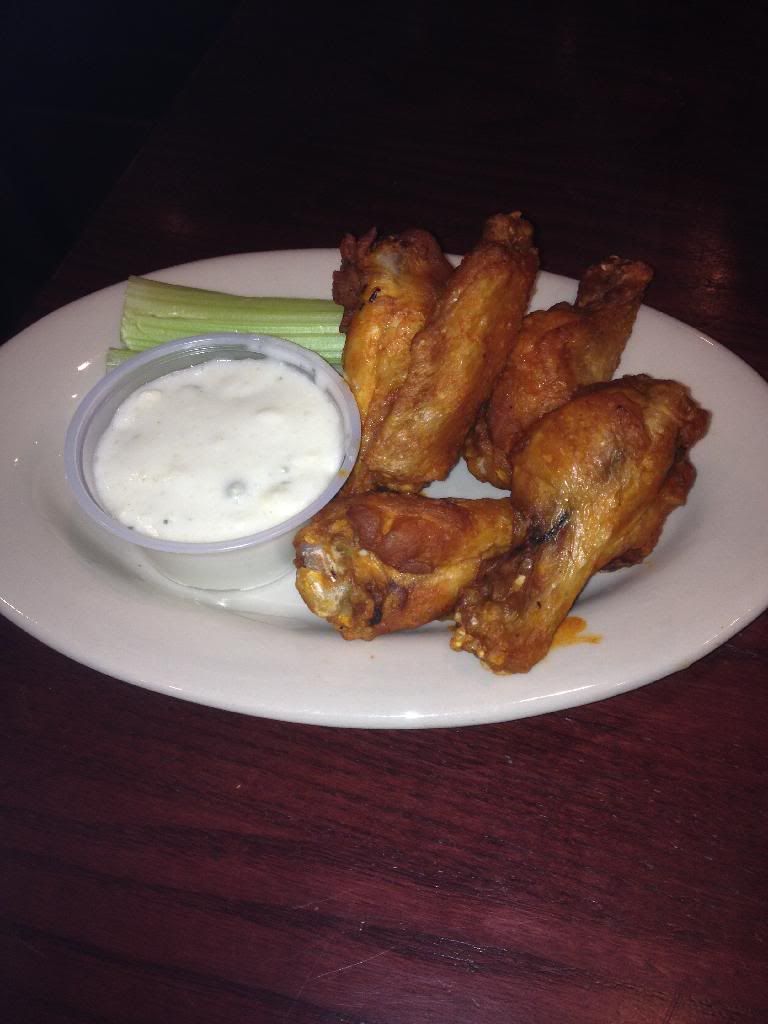 For dinner, I was in the mood for something spicy and wings sounded perfect. I loved that you could order 5 wings instead of the typical order of 10 or 12. The small batch saved me from having to talk Douglas into sharing with me. I also really liked how the wings were "sauced". It seemed like the buffalo sauce was added into the batter rather than being applied afterwards making them a lot less messy than your average wing. Because the wings weren't
drowned in buttery buffalo sauce t
he wings were able to stay crispy but still have a good buffalo sauce presence. I would definitely order these again.
Douglas had been here on his own a few months ago, and suggested the buffalo chicken cheesesteak but since I had already decided on wings, I went with the Pulled Pork sandwich. The pulled pork was served on a pretzel roll, which happened to be a little too well toasted for me, but the thick, slightly salty bread did go well with the juicy sweet barbecue sauce and coleslaw on the sandwich. It wasn't my favorite pulled pork of all time, but it's not something I would necessarily shy away from in the future either.
On this particular visit Douglas had chili and a meatball sub. The chili had a bright tomato taste, and was covered in a nice layer of gooey melted cheese. This wasn't your typical cumin, chili powder, spice fest type of chili, but seemed to have a sweeter thing going on.
Perhaps
chili sauce was added in, but whatever it was made for a nice
change up
in a bowl of chili.
His sub was a bit hit and miss. The meatballs had a really good flavor and the sub roll was perfect with the crusty outside and soft chewy inside. His only complaint was that it could have used a little more sauce. Douglas seemed to think it got a bit boring to eat after awhile and could have used a little sauce added on the meatballs to mix things up and provide a touch of moistness. With that said, this was one of the neater meatball sandwiches we've eaten and our stain free pants after dinner appreciated that
If you find yourself in the Towson or Timonium area and looking for a place with good food and lots of good beer to choose from give Padonia Ale House a try. Not everything on the menu is a perfect, but the Wings, Chili, and Buffalo Chicken Cheesesteak Douglas tried on a previous trip are all winners.
Price: Average
Recommendation
: Nice stop for a good beer and a straight forward meal
What to Order
: Chili, Wings,
Buffalo Chicken Cheesesteak