I like Thai food. I mean, I really, really, really like it. It's not the type of cuisine I grew up eating, but ever since I was introduced to Spice & Dice in Towson it's become one of my favorite types of food to seek out. Their ability to blend spicy, sweet, tangy, herbaceous flavors is something to behold. So, it was with great anticipation that I headed to My Thai a little while back.
Given that the name of the restaurant was My Thai it only felt naturally to order one. Obviously, I'm more of a beer guy and don't usually go for mixed drinks but My Thai came through with some tasty cocktails. My Thai's My Thai consists of Raspberry Rum, Van Gogh Dutch Caramel vodka, and orange and pineapple juice. Overall, it was a very sweet forward drink with the Raspberry Rum coming through most prominently. Typically, I'd save a sweet drink like this for after dinner, but the My Thai does well to combat some of the spicy dishes you might be in store for. Pictured below is their Sugar Cane Punch which is a mix of Anejo 7 year rum, orange and pineapple juice, sugar cane, muddled citrus,and cherry. In comparison to the My Thai the punch was much more citrusy and the rum packed a fairly strong burn on the way down. But that's just fine by me. Afterall, if I'm drinking liquor I want to feel the heat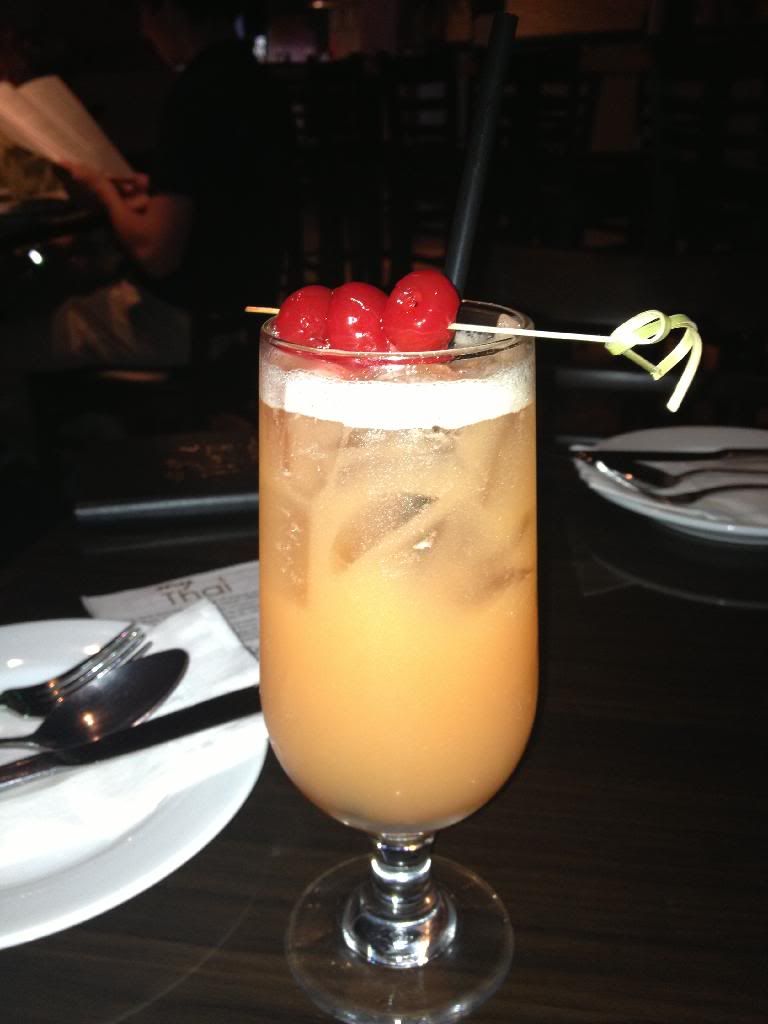 For an appetizer, we started off with lettuce wraps. Other than a Wedge Salad there is no better way to experience iceberg lettuce than a lettuce wrap. The cool, crisp texture of the lettuce leaf is the perfect vessel to place their mixture of tender chicken, fresh onion and peppers, cilantro, and spicy citrus vinaigrette. This might be the ultimate appetizer due to it's ability to pack a wallop of flavor while at the same time remaining light and leaving plenty of room for your dinner ahead.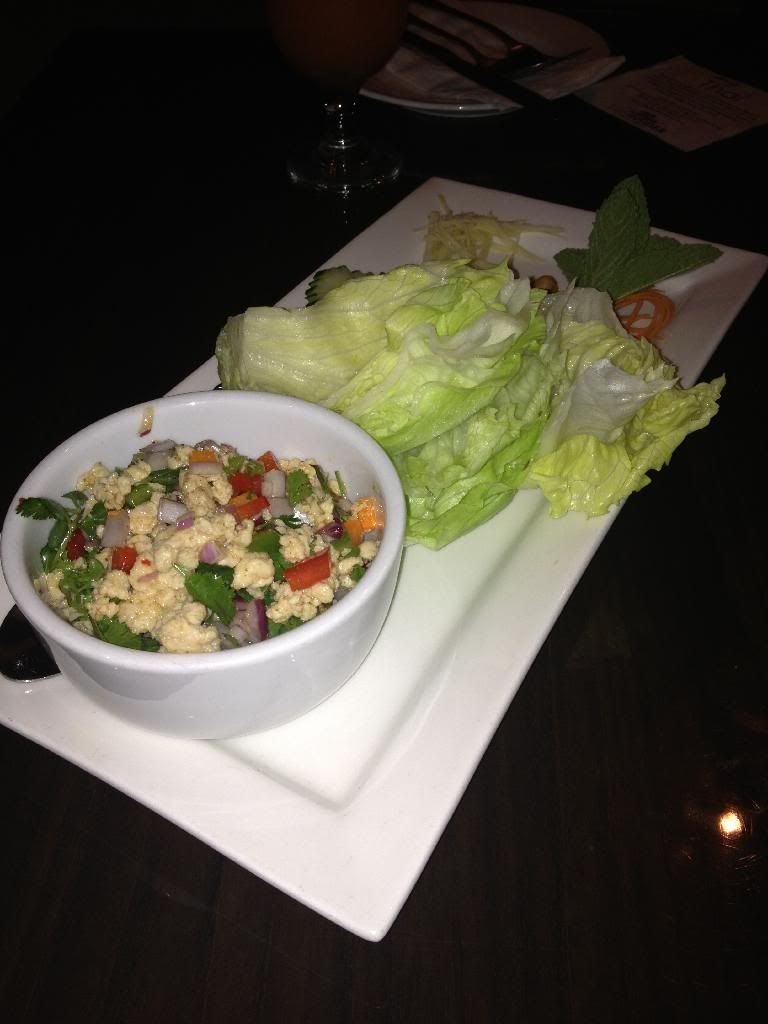 Speaking of dinner, I choose Red Curry while Deana selected Pad Thai. I loved the curry. There were tons of fresh vegetables such as peas, carrots and eggplant,chicken, and the sauce was a nice contrast of spicy, sweet and creamy. I particularly liked the texture of the curry as it was thicker like a sauce and not so much broth like. I prefer when curry sauce can kind of sit on top of rice as opposed to seeping through. Most important of all, the Thai Basil (my favorite of the Basils) and it's unique anise flavor was used in just the right amount.
Deana's Pad Thai was every bit as full of flavor. The Pad Thai was a rice noodle dish mixed with chicken, sprouts, egg, peanuts and tamarind sauce. It was surprisingly creamy and also slightly tangy thanks to the tamarind sauce which Deana really enjoyed. Peanuts served on the side end up becoming a nice contrast of texture in comparison to an otherwise crunchless affair.
Fans of Thai food and those of you looking to try something new would serve yourselves well to try out My Thai. The food is fresh and full of a myriad of delicious flavors. From starting our meal with mixed drinks down to the last bite of Red Curry our dinner at My Thai was one to remember.
Price: About Average
Recommendation: Great place to experience good cocktails and fantastic Thai food
What to Order: Everything I mentioned above was great, but I wouldnt pass on the mixed drink or lettuce wraps