Before the Holidays Deana and I drove from Burb to Baltimore to do a little last minute Xmas shopping when an impromptu trip to The Wharf Rat had me thinking it was time I resurrect the "My Favorite Baltimore Bars" series after such a long sabbatical.
For a variety of reasons December isn't my favorite time of year and I couldn't wait until my winter vacation began. This year the weight of the season was feeling particularly heavy and so on the first of what ended up being twelve days of freedom I decided I was going to blow off a little steam via alcohol induced bliss while we picked out a few last minute Xmas gifts at the Bavarian Christmas Village. For those of you that missed out on the Village this year be sure to seek it out next year. It was filled with tons of awesome one of kind of items that I know made at least two grandmothers happy.
Anyway, before we got down to the Village we decided to make our first visit to
World of Beer
for lunch (a future post altogether) since it was on our way. We only meant to have a bite to eat and a beer, but with their beer menu and my winter vacation excitement fermenting over we decided to stick around for quite a few more (Brewers Art Bird House Cask, Karlovacko, New Belgium Wild2, and Southern Tier Krampus). Needless to say, despite Krampus's best effort I was full of the Christmas Spirit by the time we made our way to the Village and after picking out a few gifts I was in no mood to let the revelry come to a premature end. We decided to head over to Fells Point, but I was hoping to avoid being clustered in a massive crowd after dealing with a plethora of bipeds at the Harbor. My only other ask of the next imbibing destination was the offering of good beer. The first place I could think of that met my criteria was The Wharf Rat and so to South Ann Street we went.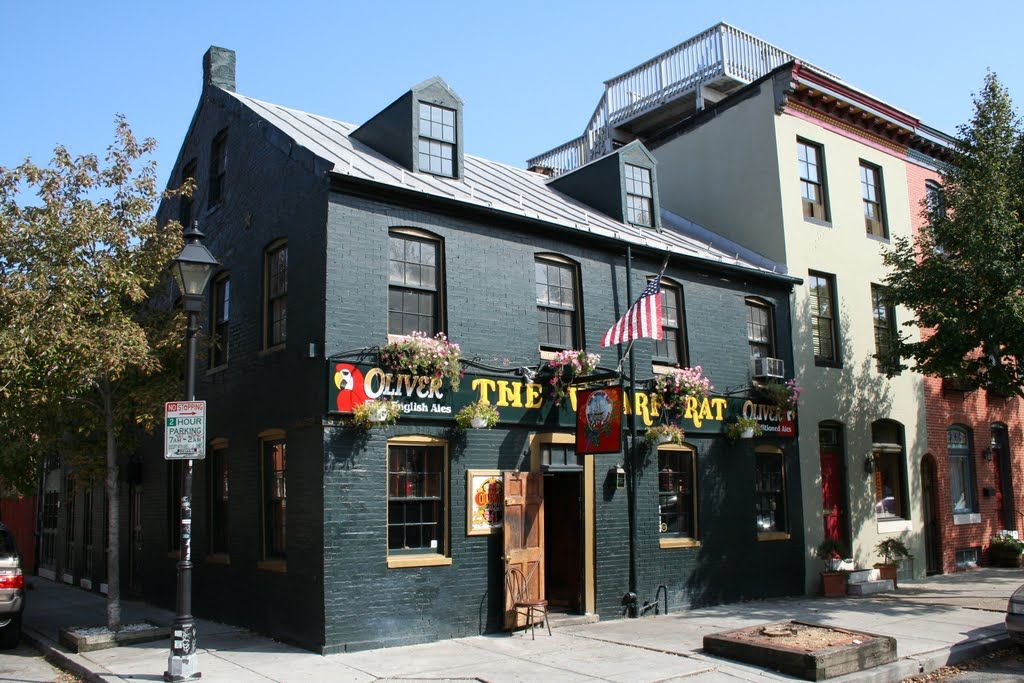 Pick a reason why someone might love a bar and this place has it.
Beer Selection - I don't recall how many taps they have exactly, but I know they offer around 10-15 different beers on tap plus an additional 3 or 4 on cask. In the past year or so I've become a big fan of cask ale and this is probably my favorite place to grab a pint right now. On this particular day, Yards ESA was going down especially easy. And the Sly Fox Chester County Bitter made me feel a little less so.
Food - I can't say that I've sampled all of their menu, but I can definitely vouch for their pizza. Each time I've ordered a pie, I've been more than impressed with the quality of pizza coming out of such a tiny kitchen. In fact, the kitchen is literally right behind the bar. One second your bartender might be facing you pouring a beer and the next they could be turned around rolling out dough for your pizza. Fresh pizza made from scratch right before you while you're downing a delicious pint is something I think we can all get behind.
Ambiance - Just as important to a bar as the food and beer is the ambiance. You want to feel relaxed when you're there and The Wharf Rat provides a great environment in which to relax. I know it's often said that such and such place feels like home, but this place really nails down the home away from home vibe. The inside is wall to wall warmly lit wood and brick and the stairs that can be found along the back wall had me wishing that they were steps up to my very own loft so that I could visit them again as soon as my batteries were recharged.
Bartenders and Friendly Patrons - This is the real reason I love The Wharf Rat as much as I do. It's one of the few places where you can have a good conversation with strangers. The Bartenders are friendly and full of personality and I can't remember laughing harder than I did talking nonsense with the stranger next to me. He started off by informing me that my beard had him "mad envious" and after trading beard care strategies (FYI, I don't have one) he had me cracking up discussing the finer moments of Kenny Powers and Eastbound and Down and his semi luddite ways. Very rarely are you going to have an amusing conversation about someone just discovering HDMI cables and their apprehension to play any video game post Tiger Woods 2008, but at The Wharf Rat that's the kind of conversations you'll find yourself in.
I walked in that day full of the stresses of December but by the end of my unexpected trip to a simple little bar my soul had been rejuvenated and made whole again thanks in large part to the people and drinks of The Wharf Rat. It's a bar that I know I'll visit again and again and one you should put on your must visit list the next time you're in Fells Point.