This is another one of those Baltimore restaurants I've driven by endless times and never visited. I always put it on my mental restaurant roledex, but when it came time to pick a place to eat
Della Notte
just never found their way to the front of the line. I finally put an end to that and after a great first visit we decided to celebrate our New Year's with dinner at Della Notte as well
Della Notte is a little more on the formal side of things. It's the type of place that scrapes the crumbs off your table mid-dinner. And simple me, I found it very entertaining that they refolded your napkin every time you got up from the table. I may have taken advantage of this. In addition to the great wait staff the decor is also top notch. The dining room circles a gigantic tree which makes for a cool environment in which to enjoy your dinner.
On our first visit I ordered the linguine and Deana went with pappardelle. We were both extremely pleased with our dishes. My linguine was topped with a ton of delicious clams in a simple white wine sauce. The flavors were clean and straight forward but incredible nonetheless. When you're done eating the plump clams and perfect al dente pasta, you'll be in heaven dipping the crusty bread in the remaining sauce. It was so good I ordered it again on my second visit.
Deana's pappardelle was equally fantastic. For those less familiar pappardelle is kind of like smaller lasagna noodles that they use as regular pasta. It was topped with what is easily the best bolognese sauce we've come across. The sauce had great acidic tomato presence, deep meat flavor, and a nice amount of spice underneath it all. If white wine sauces aren't your thing you can't go wrong with this bolognese.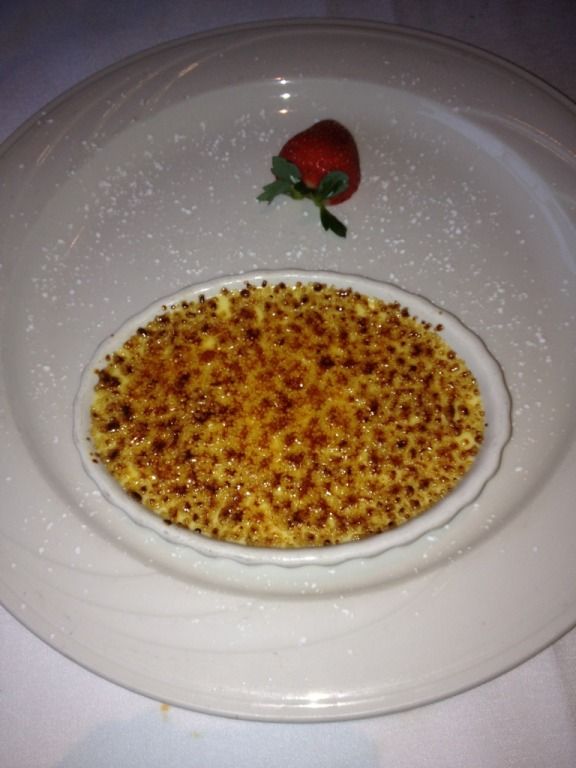 We ended our dinner and our year with the best creme brulee we've had. It's light, creamy, and topped with an addictive crunchy caramalized sugar coating. It's more than enough for two, but I wouldn't look at you funny if you ordered one all for yourself.

Della Notte was strong in all facets. The decor was great, service was excellent, and the food was delicious. I may have taken a long time to walk through their doors the first time, but repeat visits have already happened and will be happening again frequently.
Price: Expensive
Recommendation: Great place for a nice date.
What to Order: I don't think you can go wrong, but don't miss out on the creme brulee climax at the end of the night.