I'd say I buy my lunch almost 50% of the time Monday through Friday. Since, I eat out a fair amount I'm always looking for something nearby that is not only quick, but reasonably priced, and delicious. That's a tall order, but
Charley's Subs
meets all three criteria.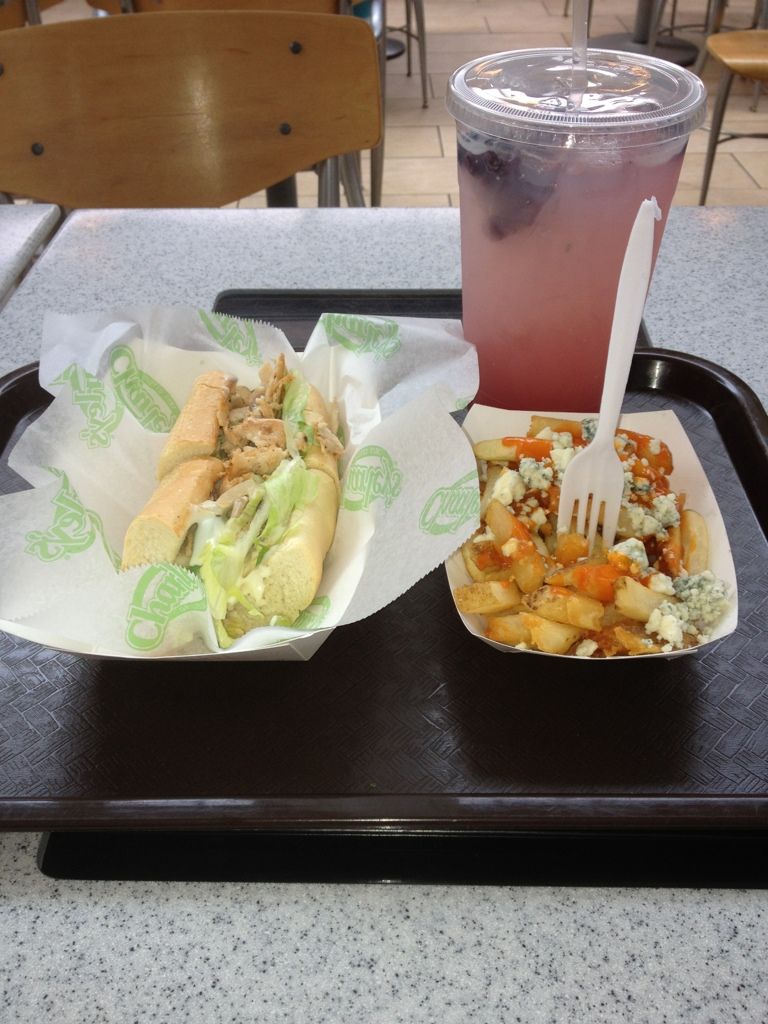 Charley's Subs opened inside the White Marsh Mall cafeteria some time last spring/summer. They were opening inside a stand that has housed failed restaurant after failed restaurant the past 5 years. Because of this, I wasn't overly excited about what they had to offer. But, I'm a brave guy and since I'm always on the hunt for something good to eat I decided to give them a try one fateful day. Summary....stuff tastes good.
But you want details!
I went with a regular chicken cheese steak (to help maintain my girlish figure), buffalo fries (to maintain a bit of masculinity), and a blueberry lemonade (because I thought it sounded tasty).
My food came out hot, it came out fast, and it came out tasting good. The chicken cheese steak, while it won't have the kings of cheese steak trembling, has plenty of good flavor. Good bread, tender chicken, cheese, mayo, and a little crispy lettuce....I'm not complaining about any of that.
The buffalo fries were the best part of my lunch. I loved that they used real blue cheese crumbles. I'm very much a blue cheese snob and the thought of nasty liquid blue cheese dressing on my french fries had me a bit worried. But no fear, Charley's came through with the crumbles and the fries themselves were fried perfectly.
And what better to wash some spicy fries down with than some blueberry lemonade. You get a huge glass with some pretty good lemonade and a bit of real blueberry flavor. It's good, not great, but Charley's amounts (in my opinion) to a fast food establishment so if you're looking for some exquisite beverages, you're probably not eating at the right place. It definitely beats "Coke or Diet Coke" everywhere else in the food court.
Overall, this place is a winner in my book. If you work anywhere near White Marsh Mall, check out Charley's for a quick, affordable, and delicious meal.
Price:
Cheap
Recommendation:
Great Place to visit for a quick lunch.
What to Order:
Buffalo Fries