A few weeks ago after attending the
Beer, Bourbon, and BBQ Fest
at the state fairgrounds we were looking for somewhere to eat dinner after a long day of tasting beer and walking around. Our initial choice had much too long of a wait, but after driving a little further down York Road we came across a sign that read Vito's Cafe: Italian Cuisine and Brick Oven Pizza. Pizza sounded perfect for a quick dinner so we decided to give it a try.
When a restaurant has brick oven pizza loud and proud on their sign I automatically think of a pretty casual restaurant experience.That's not quite what we received at Vito's Cafe. When we entered it felt like we were making our way to the catwalk the way the hostess eyed our outfits from head to toe. We were asked if we had reservations and when we said no, after looking exasperated that we would dare enter without reservations, we were seated right next to the door in this little 2 seater completely separate from nearly every other table in the entire restaurant.
At that time I was doing my best to ignore everything and just order a pizza, eat, and be gone. Our waitress came over and took our orders and laid one of the all time greats on me. Deana wanted a salad and I ordered what they referred to as Di Cipolla Swiss Onion (for all intents and purposes French Onion soup). After that I asked for the Original Margherita Pizza. I thought that would be the end of our order, but I was then informed that our pizza would come out without being cut. It was delivered in a tone that insinuated this would somehow be a problem for us simple folk who have never had sophisticated food before. I was half tempted to tell the waitress that we had just gotten done with the chapter on using knives in the Complete Idiot's Guide to Eating the night before and that we should be able to handle it. But I said nothing and let her be on her way.
While waiting for our food I finally looked around to see who was actually eating in this place. That's when I noticed that we were the only customers in the restaurant not eligible for the senior citizen discount. During that time, and throughout the rest of our night, the area we were seated in (right next the entrance) began to fill up with AARP members who eventually filtered their way over into my personal space as I was eating.
So, how was the food? Who cares? By the time the food came I was so annoyed with the place I just wanted to get the hell out of there and never go back. To answer the question, though, the food was actually delicious. I loved my French Onion Soup and the pizza was top notch as you can see in the picture.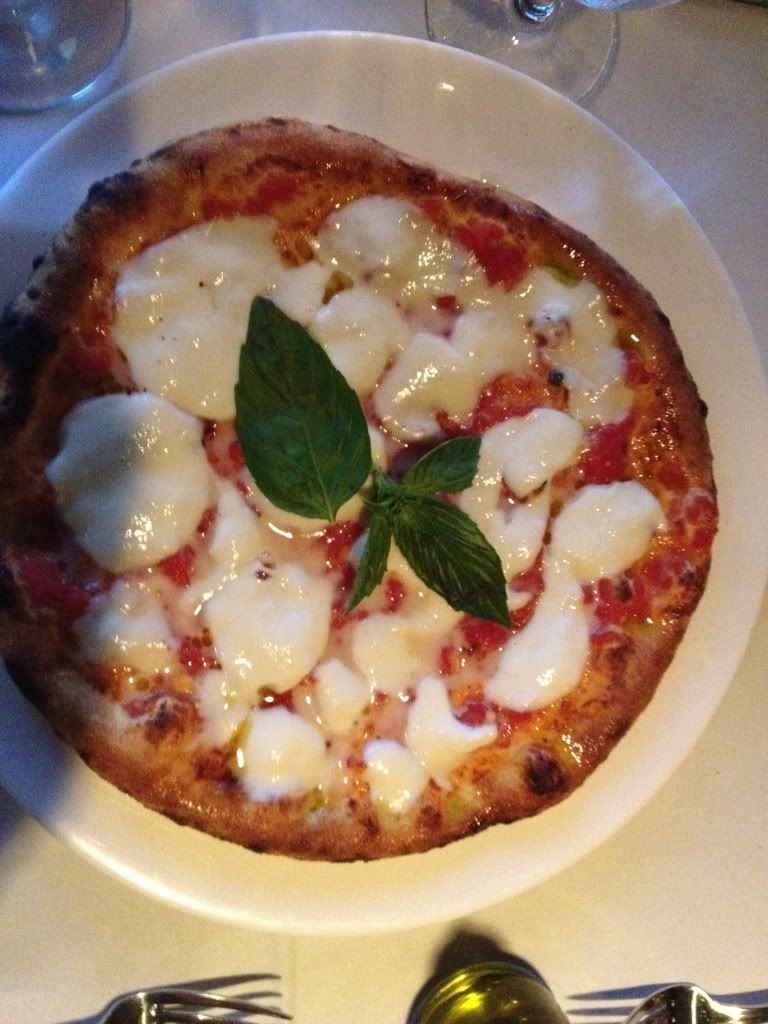 The food may have been great but every single other factor one weighs when it comes to a restaurant visit was miserable. I can't remeber ever feeling like I did that day, just itching to pay my bill and run out of that place. I won't be back to Vito's Cafe.
Price
: On the precipice of expensive. Something like Spaghetti and Meatballs is $17.
Recommendation
: Great food. Terrible Service/Environment
What to Order:
I'm sure it's all very delicious. The Original Margerhita Pizza was tasty.