I don't know why we were on that side of town, but on a cold rainy day a little while back Deana and I ventured into An Poitin Still. It was just at that point in the day between lunch and dinner where you're not full but you wouldn't turn down a tasty bite either and since we were passing the Still I decided I couldn't live with myself if I drove past once again without finally sampling some of what they had to offer.
Right off the bat I knew I wanted to try the Irish Nachos. Thick slices of potato, liquid cheese, bacon, and scallions? How do you pass that up? The answer is "you don't". I'm not the biggest fan of liquid cheese, but every once in awhile I give myself permission to make an exception. In this case, I can see the exception occurring on a semi-regular basis. When the plate first arrived I was a little worried that the potatoes were either going be over or under done based on the thickness of the cut, but An Poitin Still came through with a perfectly cooked potato -- Crunchy and Creamy just like every good potato should be. They actually reminded me of the roasties I'm so fond of cooking at home -- just with all the additional toppings.
To warm up from the rain we decided to go with the Irish Cobbler. I'm not sure why it's called Cobbler but this thick and creamy cheese soup was fantastic. I wish the Beer Cheese Soup I attempted to make a couple of weeks ago tasted half as good. There's not much in the way of texture but the Irish Cobbler packs a punch in the flavor department. I'm not sure what kind of cheese they used but there was definite smoke presence but was fairly mild otherwise (perhaps a smoked gouda). The fresh scallions were just the right amount of freshness and crunch to break up monotony of the cheese soup. I don't think the Irish Cobbler is part of the everyday menu, but if you see it on offer don't pass it up. It really hits home, especially on a cold day. It's the cheese soup I aim to mimic in my own culinary exploits at home.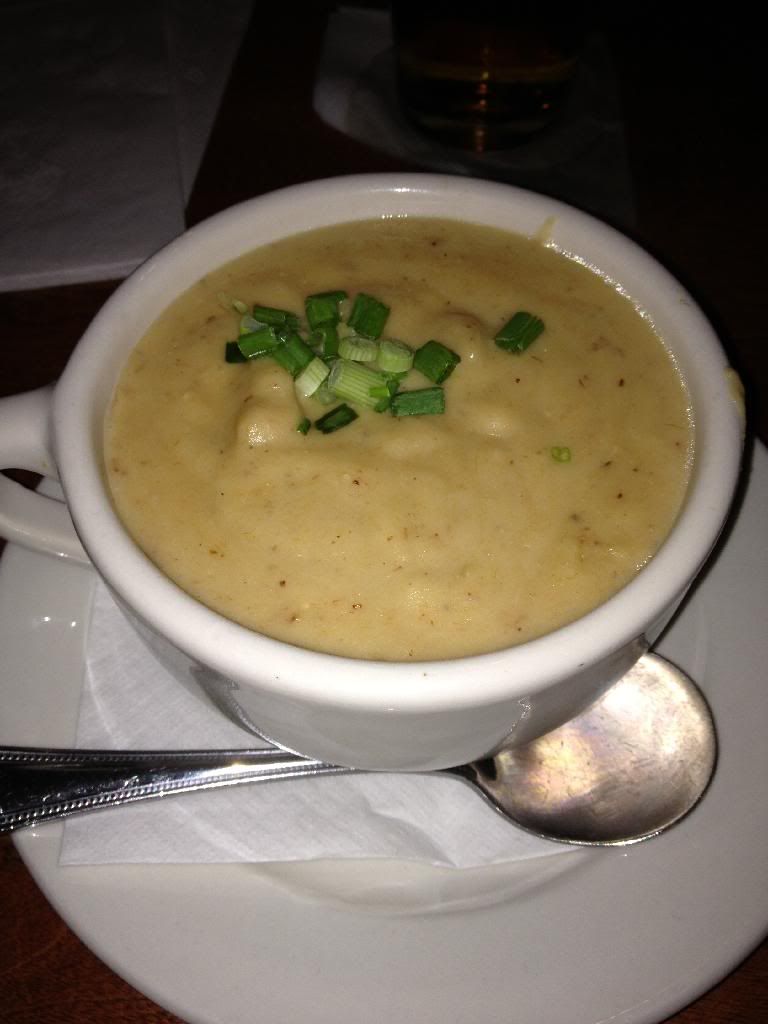 Lastly, I wanted to make special mention of the bar. I don't always make mention of the interior of restaurants in my reviews, but I think the bar area of An Poitin Still deserves special notice. It's one of the nicest looking bars in the area. In fact, it doesn't feel like a bar at all, but rather a friend's house that just so happens to have beer on tap and bartenders at the ready. Don't be a fool like me and drive past An Poitin Still. It's a great bar with tasty food. Make it happen!
Price: Cheap
Recommendation: Visit. One of the best looking Irish themed bars I've seen.
What to Order: Irish Nachos