Told ya it wouldn't be as long before my next restaurant review! I'm back and ready to tell you all about
Red Brick Station.
Of all the restaurants I've ever reviewed, this is by far the one I've visited the most thanks to it's close proximity to my place of employment.
Red Brick is awesome for a few simple reasons.
I can walk there for lunch

They are a brewpub

They have good sandwiches

And they have some of the best happy hour specials around
On Monday you have 1/2 price burgers. Tuesday (my favorite) you get dollar beers. And on Friday you can dine on dollar Roast Beef sandwiches. Beer and Beef on the cheap? Now you understand why I visit so often.
On the beer front, they usually offer 5 staple beers and a seasonal. Their Red, IPA, and Stout are all excellent. If forced to pick a favorite I think I'd have to go with Something Red. This is the beer I compared
my first ever homebrew
with to make sure it didn't suck. It's a nice red color full of earthy malt flavor that goes down really smooth without getting in the way of the food.
And speaking of the food, Red Brick Station really excel at sandwiches. I've had the French Dip (pictured below), Cheese steak, Pulled Pork, Monte Cristo, and Rachael and I've never been disappointed once.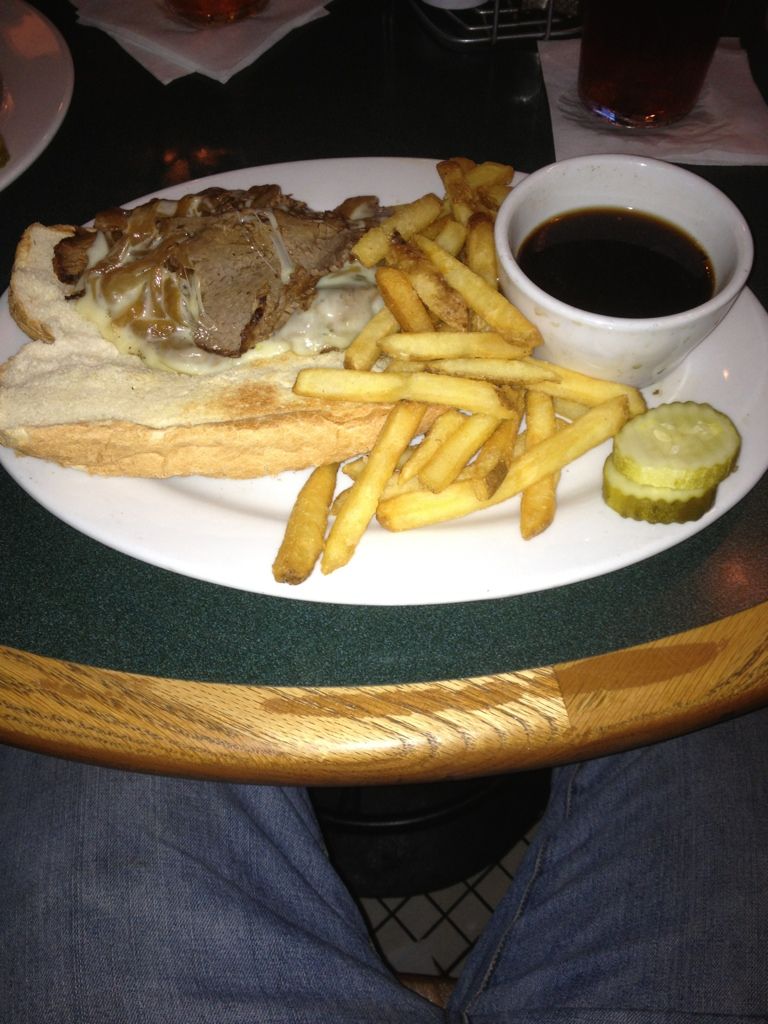 Red Brick Station is a great place to visit if you're looking to try a brewpub out for the first time or the fiftieth. The beer is good without being intimidating to a newbie. And the food is good. It's simple, but it's good and it's one of my go to restaurants. Give it a visit!
Price: Average (great happy hour)
Recommendation: Visit ASAP
What to Order: Something Red and a Cheesesteak