This past weekend I decided to take a chance on a restaurant I've been driving by almost since the day I moved to Baltimore (nearly 7 years ago).
Basta Pasta
has intrigued me for ages, but because it's located in what I'd classify as the middle of nowhere (you might call it Fallston), I've never quite managed to make a visit. I'm very happy I found the motivation to make the drive this past Friday because Basta Pasta was one of my favorite restaurant experiences in recent memory.
The first thing you'll notice when you walk into the restaurant is how homey Basta Pasta feels. The dining room isn't tiny, but it's not overly big either. It's kind of like the third bowl of porridge....just right! Really bringing the home vibe to the forefront is a large fireplace in the center of the back wall. Throw in some classic Frank Sinatra music and the mood is set for a great night at an Italian restaurant.
Anytime I visit an Italian restaurant for the first time, I know what I'm ordering before I even open the menu. I've been a Chicken Parmigiana aficionado since way back. There is no easier way to gauge the quality of the restaurant than to try out the dish I know best.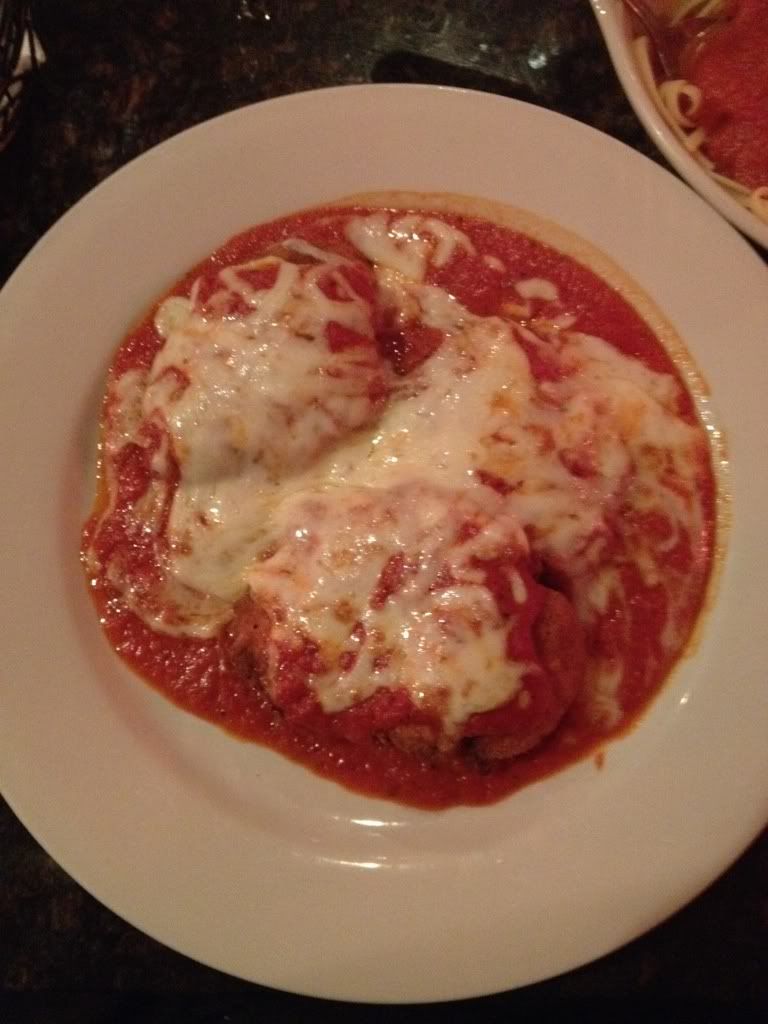 Happily, and possibly still a bit full from the dinner I had 4 days ago, I can say that Basta Pasta serves up a mean variation of Chicken Parm. You're served 3 pieces of perfectly breaded chicken, smothered in mozzarella and a covered delicious marinara sauce. You will really love the marinara. I'm used to getting more of a "salsa" type of marinara with bits and pieces of tomato found throughout, but this sauce is very smooth and gravyesque. Fettuccine is served on the side along with a bowl of salad and bread sticks. There is no question you will leave with a full stomach and a full to-go bag. The portions are huge and that's fine by me as my leftovers made for an awesome lunch the following day. Also, I'm happy to report that the pasta was cooked al dente!
My girlfriend decided to try the Chicken Piccata. I've never been a huge fan of Piccata because it always seems like the sauce is super liquidy. That's not necessarily a bad thing, and a maybe a product of being a wine based sauce, it just never appealed to me. This was different. You can tell from the picture how thick the sauce was and for the first time I found a Piccata I was interested in trying more than just a bite or two. The capers they included in the sauce added some nice salty bites here and there and my girlfriend was thrilled that they cut up fresh mushrooms for the sauce instead of adding the little rubber canned things you sometimes find.
Basta Pasta may be a bit of a drive, but it's well worth it. I imagine driving through the country roads during the summer while the sun is setting is a beautiful thing. One night when you feel like taking it easy and want to enjoy the country scenery you'll find Basta Pasta as the perfect place to end your trek outside of the fast paced city.
Price: Upper end of Average
Recommendation: Put this on your "to-visit" list
What to order: Chicken Parmigiana