One thing I'll never understand are people at the workplace who eat lunch at their desk. I get that people are busy and hard working, but for me I relish that one hour in the middle of the day when I get to stop looking at a monitor and go out by myself to just eat and think. And one of my favorite ways to spend that hour is to take a short walk over to The Avenue for lunch followed by a quick perusal of books at Barnes & Noble. So, when Slice opened up at The Avenue this summer, I was very happy to have a new place to grab a bite to eat.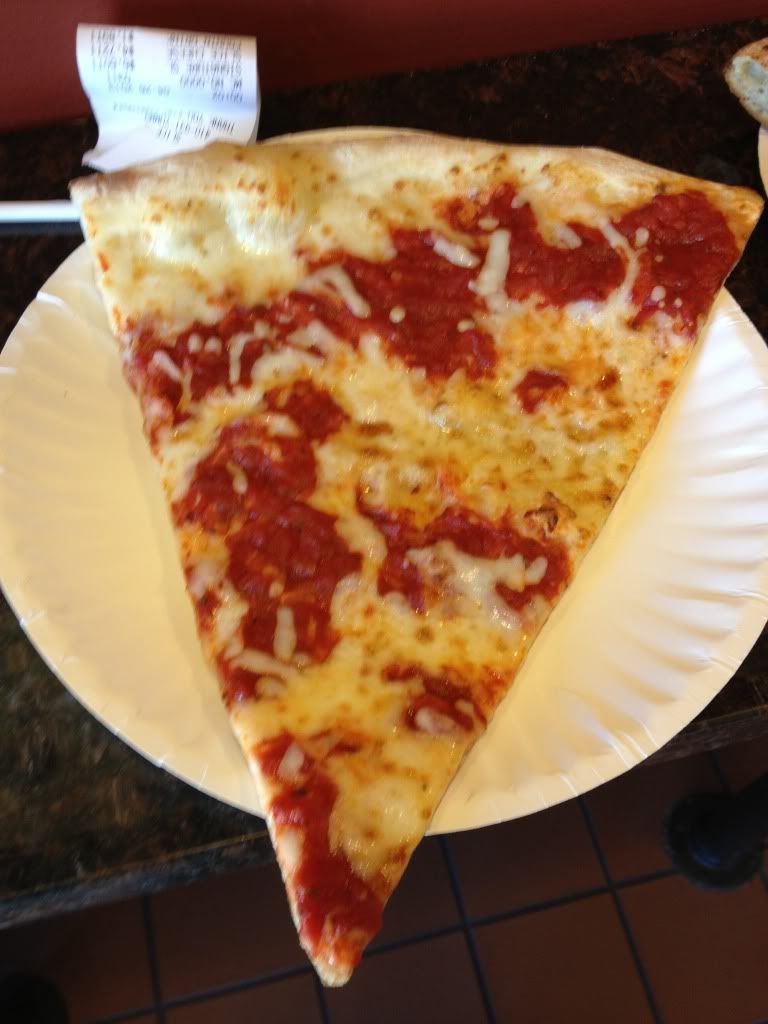 I've visited Slice a few times and I'm still not sure how I feel about the place. If I had to sum the place up in one sentence I'd say it's a tiny building with BIG slices and BIG prices. The inside of the building has very little seating. It's changed over time, but it's gone from having nowhere to sit at all to maybe 4-6 seats. There is a little standing bar area where you can put your plate and the outside has 3 tall tables that you can stand at, but I think the lack of seating is going to a very big issue as the weather becomes colder. Nobody is going to want to stand outside in December.
The pizza itself is usually pretty tasty. It's not among the best pizza I've had, but it's as good or better than most and for a simple lunch it suits me just fine. The slices are massive --- I'd consider one slice to be the equivalent to two at most places. Their basic slice of cheese is good. The sauce is thick and robust, the cheese isn't too greasy, and the crust is really good. I've also tried their buffalo chicken pizza, and while it's not bad their buffalo sauce to blue cheese ratio is way off. I've had it two on different occasions and both times the blue cheese was heavy handed while the buffalo sauce was almost at a barely noticeable level. When I order anything "buffalo" I want the buffalo to be the star of the show.
And the price is just a bit too much. I've gone to lunch before with Deana and we split two slices and a drink with our total coming in around $15. That's just too much. I can get an entire pizza for that price or close to it. I like the idea of a huge slice of pizza, but I don't think they are worth quite what they are charging. If they modify the size of their slices and come down on the prices I think this is a great addition to The Avenue. But as it stands, it's not somewhere I find myself going regularly simply because it falls out of my lunchtime price range most of the time.
Price: Expensive
Recommendation: If you're looking for something quick on a trip to The Avenue give them a shot.
What to Order: I'm always a sucker for a good slice of cheese