A few weeks ago I was invited to attend a Sake 101 Class taught by Tiffany Soto at
Pabu
. As much as I love to read and learn about beer, it's always fun to learn about something new. So when the chance to learn from a Master Sake Sommelier came up I was excited to accept the opportunity.
The cost of the Sake 101 Class is $25 and that gets you a tasting of 5 different Sake's, a few different snacks (we had fire roasted edamame and Pabu wings) and a roughly hourto hour and a half long class taught by Tiffany on all things Sake. Going in I had next to no knowledge of Sake and found the class extremely informative and fun. Of all the fermented beverages out there Sake has to be the most intensive in regards to what goes into putting out a finished product. The care involved is amazing.
The Sake 101 class is essentially a way of learning to navigate the vast world of Sake. You learn common misconceptions about Sake. For example, sake is not meant to be served hot or taken as a shot. Students are taught the basic components (Rice, Water, Yeast, and Koji-Kin) of Sake and what they mean to the finished product. And maybe most helpful we were taught a variety of common vocabulary that can help you learn to navigate a Sake menu. One of my favorite Sake's of the tasting was an offering called Aoki Honjozo Diaginjo Niigata. Prior to this class I would have just saw four words and had no clue what to expect. Now I know that the Sake in front of me is a 5 ingredient Sake because of the word Honjozo, the rice was milled by at least 50% because of the word Diaginjo, and that it was produced in the Niigata prefecture.

If you'd like to learn more about Sake follow Tiffany on Twitter @HeySakeLady for more Sake related information. And be sure to sign up for one of her Sake 101 classes. They really are a blast and even if you don't come away loving Sake (you will!) you'll learn a whole bunch of cool facts that might help you answer a Jeopardy question or two in the future.
After class, Deana and I decided to stick around for dinner. When you're inside one of the best Japanese restaurants in Baltimore you don't walkout without eating....especially if you're a food blogger. And so we ate and we ate well.
We ordered the Robata Platter which consists of 5 different meats on skewers served over a bed of rice. There were a variety of chicken, pork, and steak skewers but the highlight for us was the Berkshire Pork Belly. It's the one I took a bite out of before I remembered to take a picture. Whoops! Pork Belly makes me forget to think. The flavor of the pork belly was so huge. It was simply marinated in Japanese pepper and sake which allowed the pork flavor to shine through. And the texture was very unique. It's not often you bite into a piece of meat as thick as this and still manage to get a super crunchy exterior while at the same time maintaining a tender and juicy interior. That's a bite of food I won't soon forget.
We also decided to try the Tsukue Chicken Meatball with Jidori Egg Yolk for some chicken on chicken action. They were another solid appetizer and I really enjoyed using the egg yolk as dipping sauce. The smooth and creamy texture coating the meatballs made for a unique bite. If you like what adding an egg does to a burger, you'll be a big fan of using an egg in this way.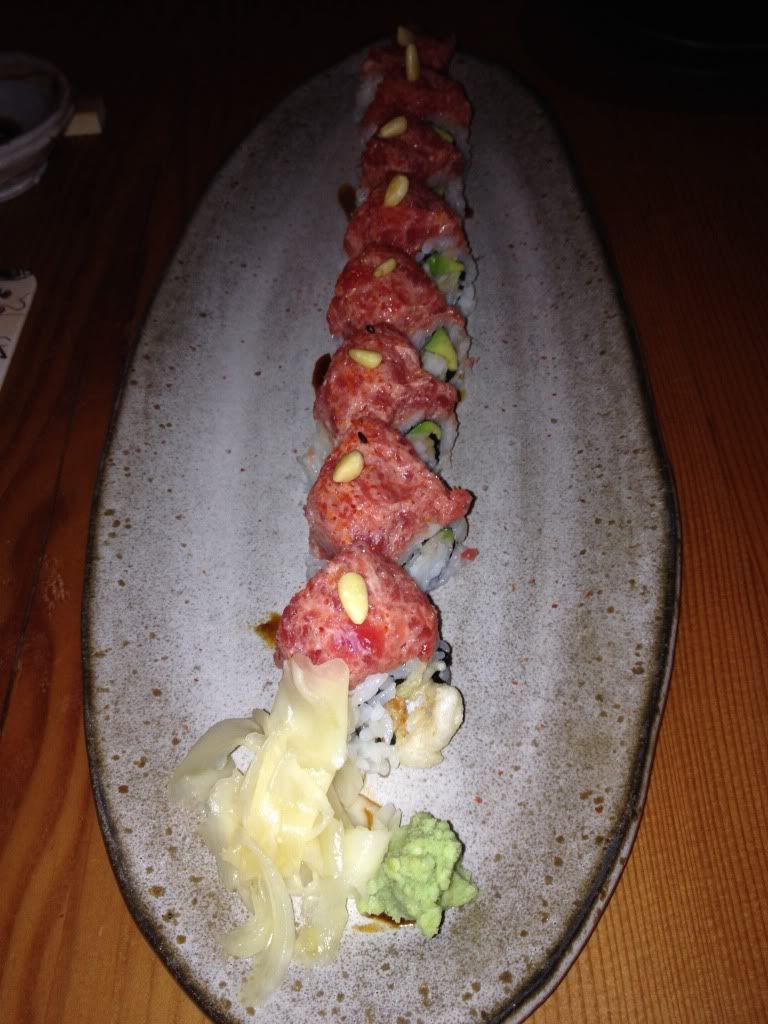 And now we get to what was the best part of the night and also the most intimidating. See, I was a sushi naysayer from way back. I've tried it here and there but there was always an odd taste I couldn't get over. It wasn't that I thought it was bad, I just never liked it. However, I try to keep an open mind so I told myself that I wouldn't taste sushi again until I was sure I was getting it from a restaurant I knew was putting out a great product. Pabu was that place and the Ken's Roll you see before you was some of the best food I've ever had. It made me love life to be eating something so tasty. The roll consisted of shrimp tempura, spicy tuna, avocado, pine nuts, and chili garlic furikake. It was the perfect bite and this is coming from a guy who avoids nearly all fish. There was tender rice, crunchy tempura shrimp, the creamiest avocado that has ever crossed my lips, and tuna that literally melted in my mouth. It was superb and I now consider myself a sushi yaysayer.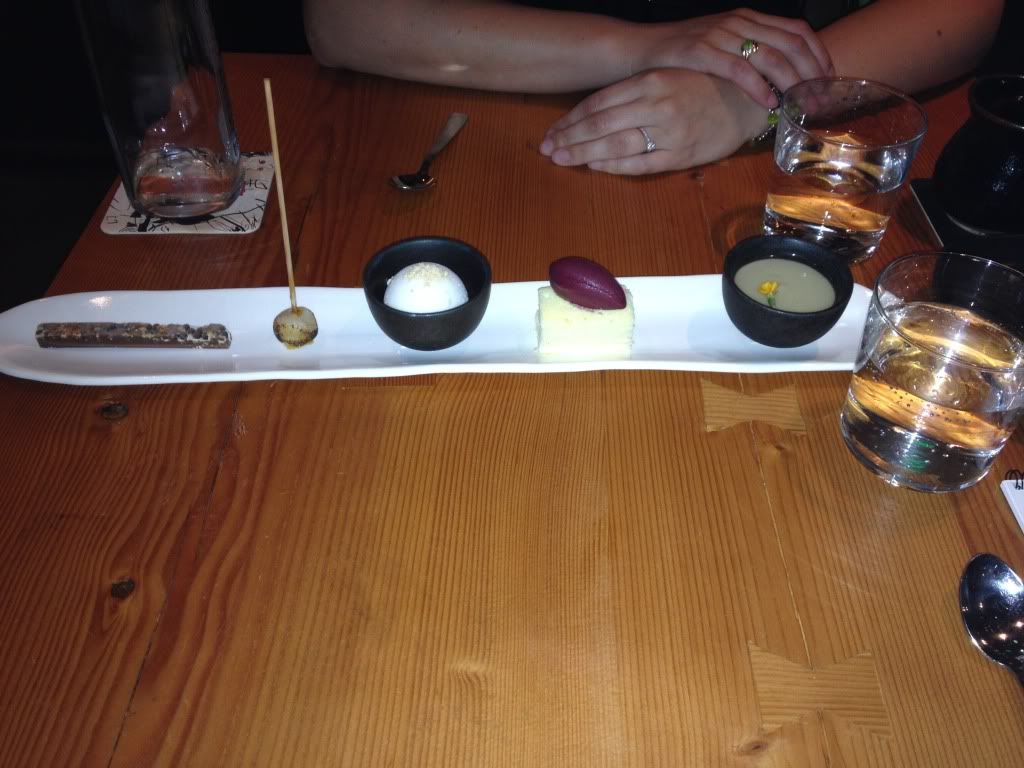 After riding the wave of savory perfection that was the Ken's roll we decided to end the night with Pabu's Desert Omakase. The Omakase includes Green Tea Panna Cotta, Crimson Honey Gelee, Japanese Style Cheesecake, Blueberry Sorbet, Sesame Peanut Butter Ice Cream Mochi, and Tograshi candy bar. I really enjoyed the Green Tea Panna Cotta. I've never had anything so light and delicate before and I found it very interesting to have a tea flavored desert. The Blueberry Sorbet was fantastic as well. It tasted as if I were eating the freshest berries around. What I found most enjoyable about the Sorbet and Gelee was how they worked as a great palate cleanser. Both had soft flavors that played an excellent contrast to the bigger flavors we had at the beginning of our meal.
Between the Sake 101 class, pork belly, and sushi our trip to Pabu was one of the most fun food related dates Deana and I have had in ages. Everything about the restaurant from the people to the food to the decor were top notch and I can't recommend a visit strongly enough.
Price: It can be as cheap or as expensive as you want to make it.
Recommendation: A must visit as far as I'm concerned
What to Order: Ken's Roll and be sure to sign up for a Sake 101 class.